Advantages of Peep Eliminator Compound Bow Sight
Peep Eliminator® Advantages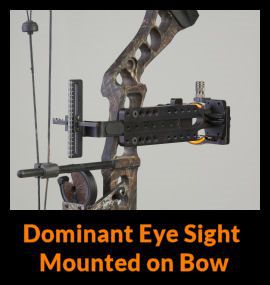 No margin for aiming error.
No more worries about bow torque,
No worries about WRONG head placement
No need to look at your level .
No need to know the degree of angle
Shoot with consistent accuracy shot after shot from any angle or position.
Can be shot by maintaining anchor or by maintaining form



To shoot by maintaining anchor

The bottom pin will always be between the alignment dots
Move your bow arm up or down to place the proper pin on target

To shoot by maintaining form

Every time you draw your bow, your top pin will be sitting between the alignment dots. You will not see all your pins at one time.
Do not move your head or bow arm
Slowly slide the release down your cheek
The top of the bow rocks rearward accomplishing the same as moving your bow arm.
The pins will keep popping up dead center of the alignment dots
The pin for the distance you're shooting will be sitting between the alignment dots.

No low-light shooting conditions without the optional light when hunting from a tree stand. Optional light is for ground blind hunters or where night hunting is legal.
For the first time ever, shoot a right hand bow and aim with your left eye or visa-versa.
Functions with any front sight of your choice: Multiple pins, single fixed pin, single adjustable pin and the pendulum.
45 DAY MONEY BACK GUARANTEE EXCLUDING SHIPPING.
SEEING IS BELIEVING!
PROUD TO SAY, MADE IN THE USA